Evolution of Montessori Methodology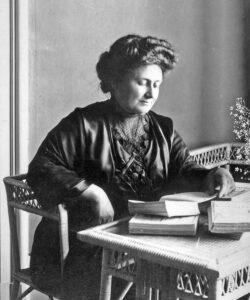 Maria Montessori was born in Chiaravalle, Italy on August 31st in 1870. Her parents were Alessandro who was an accountant, and her mother was Renilde Stoppani who was a well-educated and an avid reader. From a very young age Maria Montessori broke barriers and was a pioneer in leading the educational rights of women. She wanted to become an engineer but later decided to pursue medical degree. She was the first woman doctor from University of Rome.  In November 1896, she started working as surgical assistant at Santo Spirito Hospital in Rome and she got an opportunity to work with poor children. It was here that she took care of the children and tended to their needs. In 1897 she volunteered to work in a research program at the psychiatric clinic of the University of Rome. As part of her work, she would visit asylums where she observed how children with learning disabilities would crave for sensory simulation and the depravation of the sensory input caused their condition to deteriorate. She was later appointed as the co-director of Orthophrenic School where she took children with wide spectrum of disabilities and started working with them. This was a turning point in her life where she was transformed from a doctor to an educator. She started observing the children at work and refining the techniques to teach them. She then stumbled upon an opportunity to work with a group of children from the inner city of San Lorenzo that resulted in the development of a new philosophy of early childhood education which was named as Montessori methodology.
Dr Montessori who was renowned in scientific pedagogy and experimental psychology started a childcare center in San Lorenzo which was a poor neighborhood in Rome. She started her first Montessori school here on January 6, 1907, for disadvantaged children and called it Case dei Bambini which meant Childrens House in Italian. Here She was able to make observations and create engaging learning experiences for the children. Children started learning to prepare meals and keep the environment clean. She soon started observing a change in children who were more peaceful, exhibited a sense of order, cared for the environment and displayed periods of intense concentration. Dr Montessori created a Montessori classroom where children are natural learners. Soon she started 2 more Montessori schools in Italy and the word spread around. People from all over the world started visiting the schools in Italy to watch the group of peaceful children who are display self-discipline, concentration, and intense attention. Educators around the world learnt the method and began practicing it. The first Montessori school was established in the US in 1911 in the home of well-known banker in Scarborough, New York.
The Montessori movement quickly spread in the US and by 1916 there were more than 100 Montessori schools. But soon the movement lost its steam. Factors like the first world war & some educators not agreeing with the benefits of the methodology contributed to Montessori education losing its importance in the US. One such educator was William Kilpatrick who wrote the book The Montessori System Examined in which he criticized the concept of freedom of children in the classroom, dismissed the beliefs about the role of the teacher and the relevance of the materials. By 1920's the Montessori schools were almost wiped out in the United Stated. In 1950 Nancy McCormick Rambusch a young aspiring teacher from New York revived the Montessori education. Due to her efforts, we now have more than 5000 Montessori schools in the US and most of these schools cater for the primary aged children. It's considered to be a very effective methodology to teach children. Montessori schools are highly regarded and growing at a fast pace. There are many public and charter schools which follow Montessori methodology. Dr Montessori created a philosophy which reimagined how we learn and recognized the dignity and capacity of all human beings.